Open Floor International and Sound Body Studio
Teachers-In-Training Drop-In Classes in Sooke, BC
 5 Saturdays – Sooke Dance Studio, 6635 Sooke Road
January 23, February 20, March 19, April 16, May 21, 2016
1:30-4:30PM
(suggested donation $30)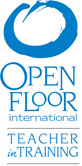 Open Floor is a movement and dance meditation practice with facilitation that explores what it is to be a fully embodied human being – physically, emotionally, spiritually and mentally. Sometimes it is a sweaty, full-on dance practice, sometimes it is a quiet and grounded exploration of our energetic patterns and repetitive thoughts. Always it is a deep, somatic experience that explores four essential hungers that all humans have: the hunger for connection, the hunger for solitude, the hunger for belonging and the hunger for spirit. Using universal movement principles such as grounding, settling, activating and releasing, Open Floor International provides a safe, expansive, well-designed container where we connect more deeply with each other and ourselves. All proceeds for this workshop will be sent to Open Floor Africa to support the training of new teachers.

SoundBody Studio offers expressive vocal movement arts and body awareness as a creative personal practice, as artistic development and expression, as well as stress management. Whether you're a "sing-in- the-shower diva," a public speaker with butterflies in your belly or someone who craves creative play, SoundBody is open to all those interested in expanding their experience of voice and its intimate connection to the body. SB founder, Bisia Belina, approaches wellness with a fusion of strategies, comprised of the following guiding principles:
BodyWork: releasing and relaxing the physical structure.
VoiceWorks: exploring vocal technique to reduce vocal stress.
VocalBody Arts: expanding confidence in coordinating sound/movement.
Improvisational Movement: permission to expand movement.
---
Awakening the Divine Feminine: A Return to Balance
Join me on February 15, 2014 for my inaugural workshop on the Divine Feminine. This is an experiential workshop of discovery, discussion and deepening our link to the Feminine Spirit in all of us.
---
The Emergent Word: Writing from an Embodied Perspective
Writing is not just an activity of the mind, it is an expression of the soul. By accessing our somatic wisdom, we can enliven our words, speak the truth of our hearts, and breathe life onto the page.
Two half days – April 5 & 12, 2014
---